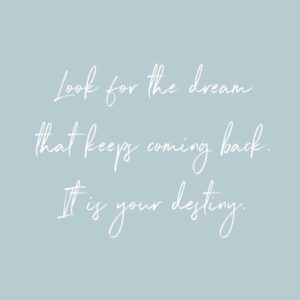 Trust the process. Stay consistent (and add adventure!) 
♥️
I had a thought the other day that just got to me…you know? A philosophical question I would love to ask people close to me…a question that would really give an inside look into "who you are and what truly brings you joy". 😊
What if you could pick and choose your favorite things from all the places you have lived and traveled (the things that make your heart beat fast, the things that bring a smile to your face, the memories you hold close, the words, the sounds, the people that make you who you are)…put them into one space, one community…what would they be? What connects you and always brings you back to what makes you, "you"? 
We all have so many versions of ourselves. We've moved through so many different phases of life. The experiences of the past, present, and future – how each one gracefully builds upon the other. 
I've been on the nostalgic train as of late! 😉
At the ripe young age of 34, there are days I feel like I can swing towards the lower end of the age spectrum with gumption, empowerment, sex appeal, and the urge to live without consequence and overthought; while other days I can without a doubt veer towards the higher set of numbers with a smile. Ironically, it's when I'm reminiscing or grateful for the multitude of experiences in my life thus far, that I appreciate the higher number on that linear scale.😊 Wisdom, purpose, thoughtfulness, and simply life lived is what drives the next steps. The unbridled determination to go beyond, the intuition to know there is so much more out there and to hone the strength to be my unadulterated self in the pursuit to get there. It's facing fear head on with honesty while trusting that what is meant to be in my life will be, and will be there with joy.
There are days I judge…I judge myself (subconsciously) more than necessary, and oftentimes others (as we all do). I cover the unease that comes with being 34 and not yet finding the man of my dreams to share my passions, adventures, and heart with, or the fact that I don't have kiddos like the rest of my friends and pray on a regular basis I'll be able to one day. I work to relinquish the thought that I must be doing something wrong since I'm not on the same path as everyone around me or at the place I thought I would/should be at in this phase in life. I try to put my jealousies, comparisons, and judgements aside when surrounded by those much younger who are just starting their careers, adult paths, and idealistic lifestyles.
I then remember where I've been…and how we all carry our own story. Our own reason "why", the dream(s) that keep coming back, our love and need for contentment, but also for anticipation of the next steps. We've all chosen the steps on our path for a reason. The decisions we make, the people and places, the experiences that come into our lives absolutely shape us; when I look at it that way, I'd take nothing back. 
I recently went to a conference in Minneapolis. I shared with a new co-worker some of my "city favorites". To be back this particular time made my heart happy. To remember and cherish all that I had experienced in that city over a 5 year span made me so grateful. The first job, the amazing friends and connections that still remain because of that job, the laughs and some tears, the changes and life events we went through together and have experienced since. My favorite boutiques, gyms, bike paths, lakes; the restaurants, the outings, the late nights, the music and dancing, and oh my gosh, the laughs (and I'll be honest, bad choices!). So wonderful. ♥️
All the same feels go for each city I've had the opportunity to live in, travel to, and love.
So much so, 
I'm heading East in a few weeks and I am looking forward to the solo journey! In need of big city, skyscrapers, inspiration, cultural change, AND since it's been nearly 10 years since my DC life, it's time. Albeit, quite the experience back then…I cannot wait to go back with a different perspective. A light, creative trip filled with wandering and writing, coffee shops and neighborhoods, and naturally, reminiscing. I'd be the first to say I wasn't my best self when I lived out there – I struggled. But that's what makes it great now…I live, I learn, I go for it…always. I believe when it's all said and done, there won't be a moment I regret. It's the process. It's faith. It's the experiences we call upon to make the next moves. See you soon DC and Manhattan – let's discover something, yet again. 
xoxo,
AC