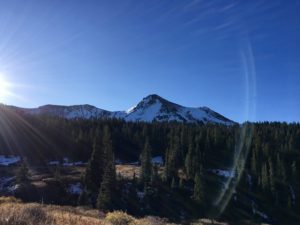 My goal was to hike Crested Butte to Aspen one day and return the next. This spring season idea got pushed to the fall, and I was off! Although, the weather had other plans once I reached the Mt. Crested Butte destination…with at least 6 inches of snow and a low of 9 degrees! I changed plans at the last minute while enjoying some tasty food at the Ginger Cafe in the adorable town of Crested Butte. The Universe always has your back, doesn't it? 😉 because oh my gosh, the views, experiences, and people I would have missed had I been so driven to complete this hike the way I originally planned! You never know who and what may cross your path, so allow what will be to simply unfold, because in hindsight you'd typically wouldn't have it any other way 🙂
Here we go! I drove down quite the narrow, muddy, icy path on my way to the West Maroon Trailhead before dawn. At that moment, I understood why the locals voted against this small blonde leaving a car down at Schofield Pass with snow approaching. 🙂  I most definitely would have been stranded and the road potentially closed. At 25 degrees, the day-hike began! Just after sunrise, I left the forest and approached the wide open space, fall colors, and snow-capped peaks ahead.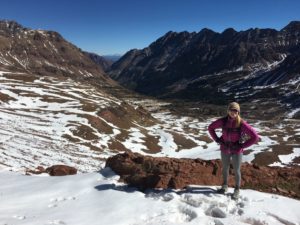 It took about 2 hours to hike from the trailhead to the rocky summit of West Maroon Pass at 12,500. With warmth below (50s and sunny!) and cold wind gusts at the top, as you'd expect, I bundled up, took some selfies with a wide smile at my first success! I met a woman about the same age who was hiking the CB to Aspen trail that day, we took a few minutes to chat, exchange photo ops, and wished each other well as we both descended on to different sides of the mountain pass.
On my way down, overlooking the vast beauty of this grandiose, yet tiny piece of the Rockies, I knew I was in this place, on this day, at this moment, for all the right reasons.
Trekking onward toward Frigid Air Pass, I ran into much more snow, and albeit, mud due to those strong mountain sun rays I love so much warming the earth around me. Thank goodness for my gear at this point keeping me warm, dry, hydrated, and smiling. This trail wasn't marked as clearly but I trusted my instincts and the footsteps of previous hikers that had come and gone as I ventured onward. I stopped often on this trail, simply to turn around and take in all I was surrounded by. Deep breaths of cool, crisp, fresh mountain air. The absolute quiet and calm, only hearing a slight breeze and the crunch of my footsteps in the snow. Knowing I am this small and insignificant human in God's brilliant creation. Yet, somehow feeling so significant and strong trusting He was the one that created me to have the courage, heart, and mind to take this solo adventure.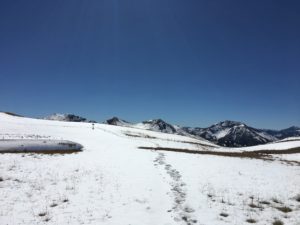 With some second guessing on the way to this summit (less direct path and more seclusion), I moved forward inch by inch and finally reached the direct line of switchbacks to the top. Pure mud, I grabbed rocks with each step to steady myself as I'd start gliding back down from the slick, wet trail. I like to think my small stature came in handy on the way up and down this pure mud path, slinking around side to side finding my way to some more steady footing. 🙂 I made it!! Again, windy and quite cold, I held onto my hat and enjoyed the views with a wide smile, a few giggles, and maybe even a few grateful tears, truly appreciating the moments thus far. I was happy. I was full. And, quite honestly, I was so, so proud.
I hadn't had any monumental realizations or crazy "I found myself moments", nor had I intended to. But, on the way down, there was a profound vision of what was in my heart. An intention that was made more clear than it had ever been – one I truly cannot control, but I hope manifests itself in time as I continue to give love, say yes to things that feel right, and trust the journey.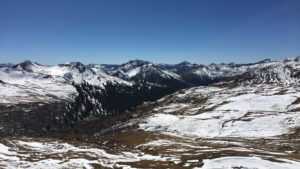 I descended back down to the original path. Hiked a good number of miles back to my car, relishing in the clear blue sky, seeing the same trail now in a different light…literally and figuratively speaking, as the sun was in a different position and the day moved towards evening.
After 7 hours, and 12 miles, I reached the trailhead and hit Gothic Road back to Crested Butte (thankful for my Subaru – the first of multiple times on this trip!) The unpaved, sketchy road was more nerve-wrecking to drive that day than the hike itself. 🙂 An hour later, I was on my way to Aspen!
My goodness, was I so thankful for my changed plans…the moment I began this drive on the gravel road through one of the largest Aspen groves and over Kebler Pass near sunset and during twilight, I was in awe at the fall foliage and views. Each turn was absolutely amazing. I now know it is one of the best and most breathtaking places in the state to see the changing leaves and autumn colors. Wow. I will never forget it.
The entire day, hiking and then driving these passes, I was in serene solitude. It was wonderful. No cell service except the quick stint in CB to tell my parents I was fine and as I approached Aspen after dusk. We all need this…no connection for hours or days at a time allows for a reconnection; a connection to what matters.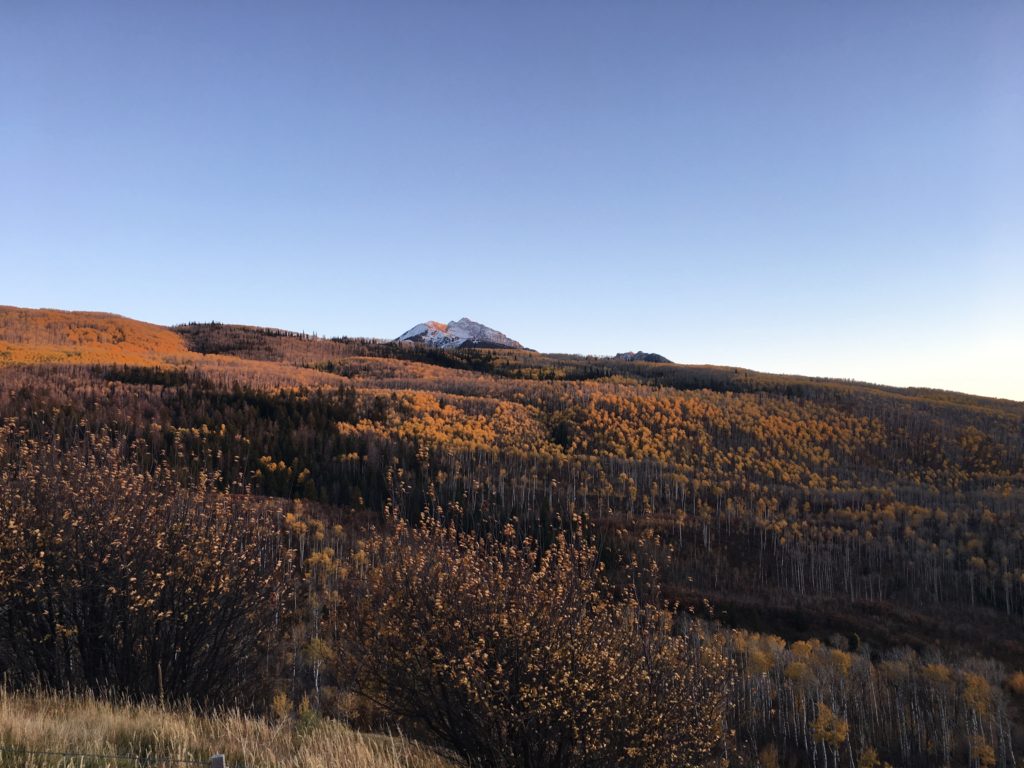 Stay tuned….
…for the gorgeous Aspen adventure